Welcome to the MAGA music Website.
MAGA music is: Me, Mathias Garnås, from Stockholm, Sweden,
working full time as a freelance musician, singer,
songwriter, and producer. Feel free to take a look around.. If you want to get in touch with me please
send an e-mail under the contact section. MAGA music ...
Updated: 2020-06-01

'Tell me'
Brand new single from Kinship. Written by Hans Kronbrink. A blusey tune sung by Helena Hillerbo. Features me, Alexander Kronbrink, Sebastian Ågren and Stefan Blomquist.
More releases...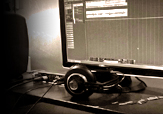 Corona 2020...
Right now everything is cancelled.
Just waiting to start working again.
Wish you all the best!
Stay Safe..